---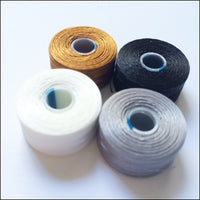 C-Lon Beading Thread: White, Black, Grey, Gold
Size AA (the thinnest made) easily fits through size 15/0 seed beads
C-Lon is highly recommended for bead embroidery and comes in a rich array of colors. It is a monofilament nylon thread that is slightly flat and very strong.
Tex 35
Bobbin measures 1/4" x 3/4"
Approximately 75 yards (68m) per bobbin.
Purchase a bobbin, or a tube of 12 bobbins.
Will fit through size 15/0 seed beads or larger.